Escape the Winter Blues with Search Camp
Search Camp 2017 is yet another piece of awesome from Dont Panic Events. Lucky enough to be a guest of Nicky Wake and the Don't Panic team, I trundled along with my party bag and camera to enjoy a 2 day residential search conference on the South Coast… at the Butlins Holiday Camp in Bognor Regis…
Butlins!!!?? I hear you cry – but hold your fire – there are plenty of conferences, raves and music events that are held here so they know how to:
Throw a good party
Deal with large numbers of people
Offer Free Parking 🙂 (a serious win if you live in the sticks, trains cost more than driving and parking is usually £35 a day in a city!)
… and sponsored by these lovelies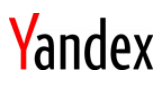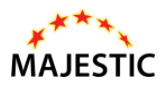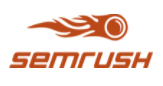 The Venue
Butlins in Bognor Regis is based near the South Downs in West Sussex. It also has a massive beach that some of the delegates may be running along with Scot from Don't Panic who is clearly training for something otherwise who the heck would organise a 7 am leisure activity on the morning of Day 2 🙂
Butlins is a lot more modern than British people remember from carry on films, and appears to have everything you might need. It has been noted that the food and refreshments are fresh, healthy, and if you do end up buying the round of shots at the end of the night – pretty reasonably priced!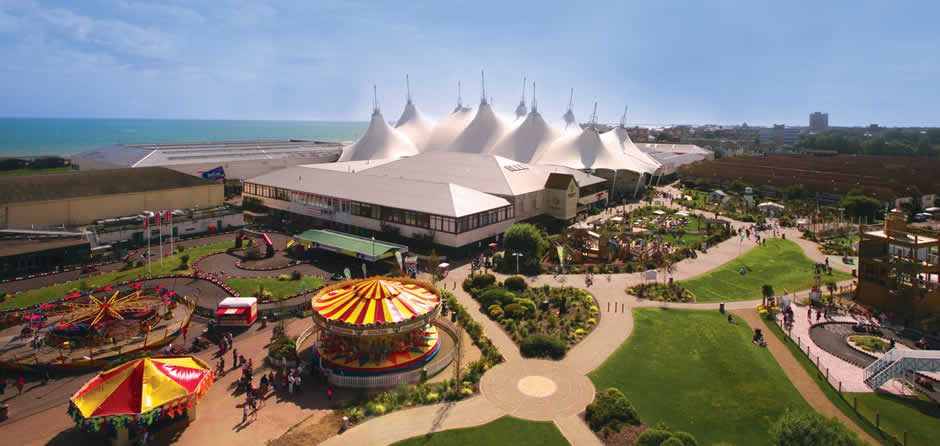 Image courtesy of Butlins Bognor Regis
Day 1 – SearchCamp Roundup
The very first searchcamp is a residential SEO, PPC, search marketing, analytics and mobile campaign taking place mid week in one of the UKs oldest and most loved holiday parks.
Todays Talks were pitched just right and the audience were actually quite a lot different than I've seen at other search events. Directors, event peeps, self employed freelancers etc so it was great to chat to different industries and talk with professionals looking to know more as opposed to people that already know but are brushing up.
An impressive line up with new speakers and old favourites, with examples from great brands. I want to avoid the whole takeaways type post as frankly, you should be here seeing it in person and supporting a great event 🙂 also, many takeaways can be found on
Day 1 Speaker Sessions
Speaker Lineup:
Nick Wilsdon, SEO Lead – Global Channel Optimisation, Vodafone – Welcome
Aleyda Solis, International SEO Consultant, Orainti –  Accelerated Mobile Pages (AMP): Do's & Dont's for Success
Nick Wilsdon, SEO Lead – Global Channel Optimisation, Vodafone
Tatiana Kalinina, Business Development Director, Yandex – How Global is Today's Digital Landscape, Really?
Manuel Martinez, SEO Strategist – Unlocking the Potential of Google Data Studio
Vicke Cheung, Senior Designer, Distilled – Success Beyond Links: How to Make Your Content More Valuable
Arnoldo Cabrera, Global SEO Team Leader, IKEA – Challenges of Search in a Global Scale
Fernando Angulo, Head of International Partnerships, SEMrush – Reshaping the Landscape of Search: Tracking Google's Algorithm changes
Tor Thompson, EMEA Regional Director for Bing Ads, Microsoft – The Future of Advertising by the Elements
Day 1 started with an inspring welcome and talk from from Nick Wilsdon, fast and furious Aleyda with her usual  mobile greatness (slides here https://www.slideshare.net/aleydasolis/amp-dos-donts-for-superhero-results-searchcamp).
Tatiana Kalinina and headline sponsor Yandex, gave us an in depth insight into the Digital Lanscape
Manuel Martinez introduced us to Data Studio and how we should all be using it – slides here https://www.slideshare.net/ManuelMartinez187/unlocking-the-potential-of-data-studio and searchcamp data  here http://manuelmartinez.biz/searchcamp-dashboard/)
Vicke Cheung gave us some great examples of from how to wow content marketing examples such as the Brexit Bus, Arnoldo cabrera from Ikea showing us the thinking behind the infamous designer bag campaign (and more) – https://www.slideshare.net/VickeCheung/success-beyond-links-searchcamp-2017-vicke-cheung-84013369
Fernando Angulo gave us a whistlestop tour of SEMRush capabilities and Google Algorithms – https://www.slideshare.net/leorusia/reshaping-the-landscape-of-search-tracking-googles-algorithm-changes
Tor Thompson and  the future of advertising with examples from her husband in a metal band – a subject close to my heart (see vocal effects training in the other part of my site!)
Pics of the day:
Lunch, Dinner & Food in General 🙂
Butlins food is actually pretty delicious with a buffet lunch and breakfast with a 'proper dinner' on the Wednesday night that felt like a works 'Christmas Do' (in a good way!). Dinner was a treat – great food, good chatting and to finish up an official red coat with white 'troose' helping the wiling to live it up to live disco DJ musics. ( I do have videos – buy me a beer of gbive me a link and I'll consider posting them!) 🙂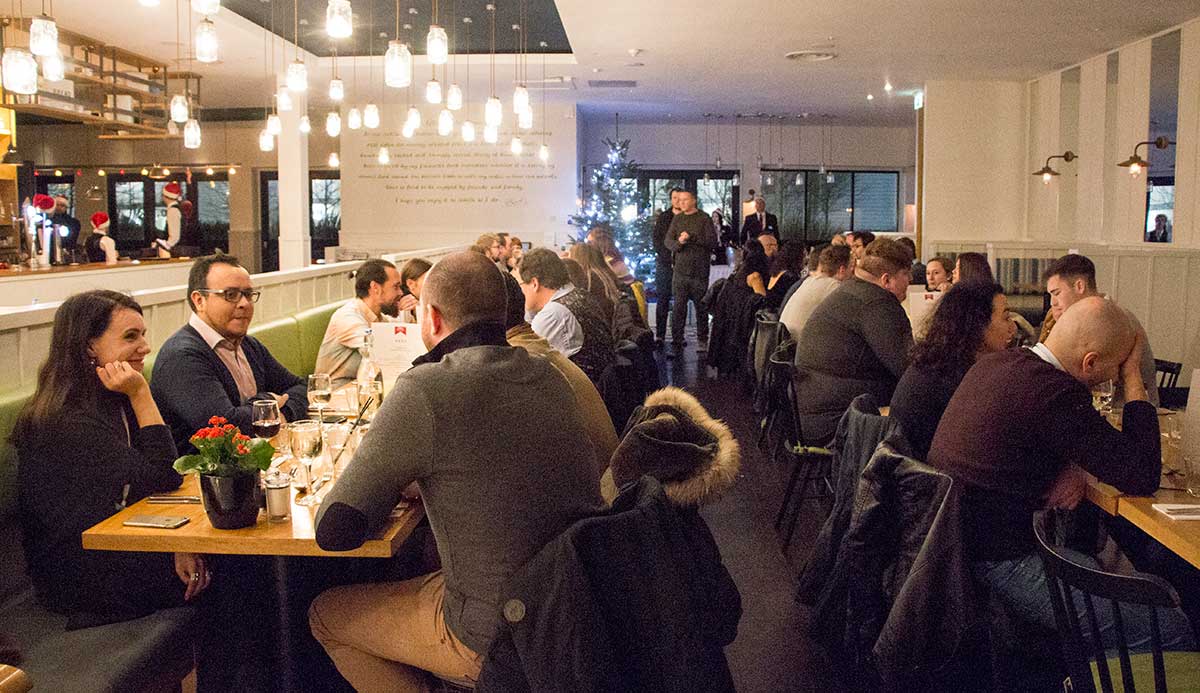 Day 2 – SearchCamp Roundup
Ahhh Searchcamp Day 2  the night before did not go on too late so we were all up and refreshed for breakfast, ready to check out and hit the conference again. I even took some time to book in a few treatments at the Ocean Hotel Day Spa instead of taking the 7.30 AM run along the prom (sorry scot – I did bring me trainers but you know #coffee!)
…but to prove I was up with the larks – here is my morning view from my huge room with a balcony at 6.30 am…
Day 2 Speaker Sessions
Speaker Lineup:
Greg Gifford, Director of Search and Social, DealerOn
Simon Heseltine, Vice President of Search, ForRent
Bastian Grimm, CEO & Director Organic Search Peak Ace AG
Jim Banks, CEO, Spades Media
Luis Navarrate Gomez, Head of Global Search Marketing, The Lego Group
Oscar Carreras, Director, SEO, EMEA, Expedia
Tom Cheesewright, Applied Futurist, Book of the Future
Day 2 Talks were high energy with Greg Gifford and a punchy #badass SEO linkbuilding session (and a huge nod to oldskool SEO tactics that still work- it's all about the link goddammit!) – https://www.slideshare.net/GregGifford/austin-powers-super-mega-top-secret-local-seo-tips-to-help-you-dominate-in-2018
Simon Heseltine gave us a history of in house as he knows it followed by some award winning advice on how to set up your in house team – https://www.slideshare.net/sheseltine/in-house-marketing-its-a-team-sport
Bastian Grimm who I usually expect a high octane mindf*ck on WordPress tips – gave us an in depth mobile and technical overview (view source is dead – really dead folks!) slides here https://www.slideshare.net/secret/cn2qr95YwNDJm6 – test your mobile site speed here https://testmysite.withgoogle.com/intl/en-gb
Jim Banks woke us allup with a spot of fist pumping then followed with an energetic do's and donts of paid advertising and Facebook – https://www.slideshare.net/jimbanks/how-to-be-the-800-pound-gorilla-in-your-vertical-using-facebook-ads
Luis Navarrate Gomez delighted us all with tales of Lego and the #Kronkiwongi campaign – https://www.lego.com/en-us/campaigns/kronkiwongi
Oscar Carreras – more in house but this time from expedia as Oscar tells us of his experience taking on the behemoth that is Expedia SEO
Tom Cheesewright – final talk of the day and wearing a bang on trend Star Wars Jacket – Tom talks about that scary thing the future!
(I will update the post with slide links when I receive them from all of the speakers! #hint #hint 🙂 )
Moments of the Day:
<iframe width="800" height="400" src="https://www.youtube.com/embed/9-iwMykHPV8" frameborder="0" gesture="media" allow="encrypted-media" allowfullscreen></iframe>
End Bit
Searchcamp is  wonderful idea and I can see this growing and growing into one of the best.
Residential camps offer a chance to really get to know people in an environment where seach talent and celebs/gurus/ninjas are always 'around' so it was great to see main sponsors at the event hanging out with the delegates… and as always a bit of extra fun was provided by the Majestic photo booth
Of course, we all still need to do business but you can easily slope off to another area to do work undisturbed or just head back to your hotel room (or the cheeky spa) if you need a break!
Butlins offers the added ability to bring your family and your kids if that is something you would like to do and due to the fact that Butlins environment is not a laddish party til 4 am affair… if your head is a bit sore in the morning… you only have yourself to blame!
Thanks to Nicky Wake and Team Don't Panic for another successful event in the search calendar!
Thanks to Majestic for the fun of the photo booth and thanks to Yandex – there were a few leftover rucksacks so I donated them to our local nursery – happy to report that the next gen of SEO's are happily stuffing teddy bears and dollies into them – had I thought about it earlier – I would have tried to also get some lego donated for the local nursery #kronkiwongi 🙂 roll on 2018
See photos in this post or check out the album in one place on G+ https://photos.app.goo.gl/bDcEoYgHHZJvDH802